"

"All it takes is one song to bring back 1000 memories.""
Your residents deserve the best - now they can get the best entertainment in the comfort of your facility. 
The Singing with Seniors program was born out of Laura's time with her mother, Laura's biggest musical influence, during her last months in a nursing home. Using decades of music performance and previous experience working with geriatric patients (in her family's business), Laura provides musical enrichment by engaging residents with songs, stories, and conversation.
Laura is currently giving musical programs at over 80 facilities in the Capital region and Vermont. She works with residents of all ages and with varying degrees of ability and cognition, from the highly independent, to those profoundly afflicted, and can tailor programs for specific needs. Her genres include (but are not limited to):
Standards/Oldies (30s-70s)

Classic Country

Folk

50s Rock 'n Roll

Woodstock/60s

Young at Heart: 60s-70s

Broadway Review! (Show Tunes/Movie Tunes)

Holiday Programs (Christmas, Patriotic, etc.), to name a few.
Bookings are now being accepted for 2021. Please note that Holiday programs and afternoon programs tend to book first, and far in advance.
Laura (as well as her trio, Red Dirt Highway) is available for parties, BBQs, Wedding ceremonies and receptions, funeral/memorial services, and all other events.
Look Who's in the News!
Laura is absolutely surprised and delighted to see this press release by the Marketing department for all the Rehab & Nursing centers being picked up by two(!) TV station websites (WCAX Burlington and WRBG Albany)! Thank you Jeff and Marijo!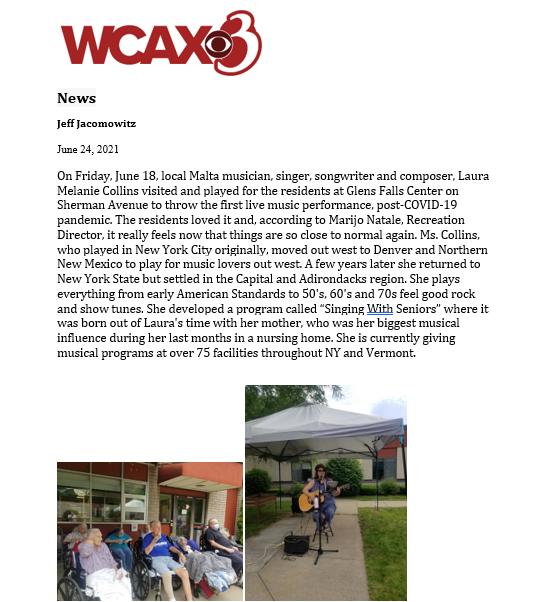 "

Thank you -- As always, we had a ball. The residents and staff thoroughly enjoy you and your beautiful voice. What a Blessing!"
— Maureen M., Recreational Director
Press Photos